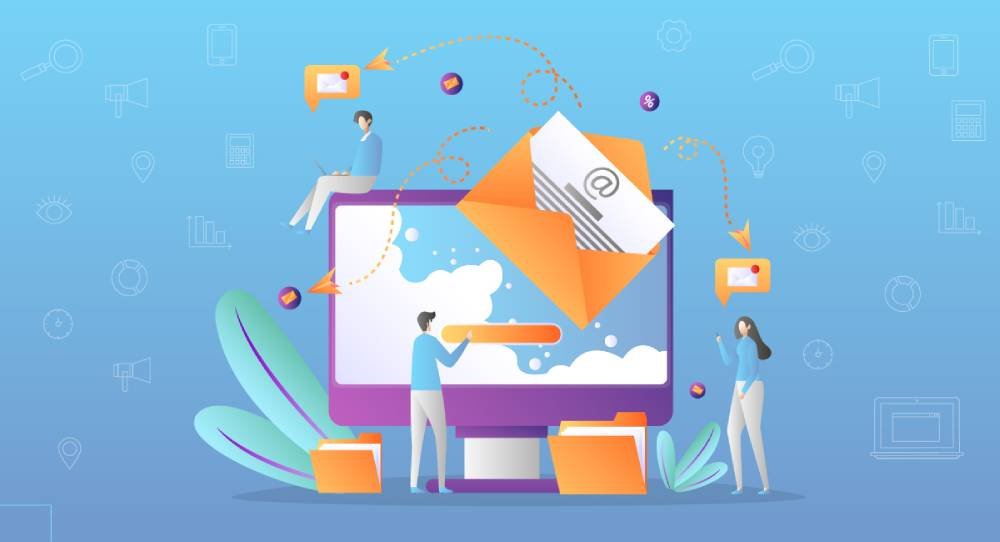 Best Email Marketing Services for Small Business (2021)
Email marketing services today play a significant role in determining the success and failure of your marketing campaign. It assists you in creating a trusting and strong relationship with your consumers while also aiding you in increasing your conversion rates. This proves pivotal when it comes to establishing your brand value and determining the growth of your company. By following this practice, the reach of the business increases which helps your company reaching new heights.
But for achieving the above-mentioned goals, it is crucial for a company to choose email marketing services very carefully. All email marketing services have a unique set of features and characteristics that sets them apart from other email marketing companies. Hence, if you fail in rightly evaluating the best marketing service provider then there is a very good chance that you might get stuck with some poor bulk email marketing services, where you will be required to pay a huge fee for fewer features and terrible deliverability rates.
But you don't need to worry about it because we have got your back. So, in this article, we will discuss the best bulk email marketing companies in order to assist you in choosing the best email marketing services provider. But before diving straight into that discussion first, let us cover some basics!
Why is choosing the best email marketing service a crucial task?
E-mail marketing helps a business in covering a significant part of the market in a cost-effective manner. It helps the business in building direct contact with its potential customers and hence strengthens its engagement with people.
This form of marketing is also easy to manage and it gives you full control over the leads. However, if you don't plan your moves carefully and choose the wrong email marketing services, then you may lose this control and might be forced to pay huge amounts for poor and unworthy services. This is what essentially makes choosing the right marketing service a significant task.
How to choose a good bulk email market service?
In order to make the right choice in determining the email marketing service provider, look for a company that offers you the following advantages.
Your email marketing service should enable you to create engaging email newsletters that your visitors find interesting and informative.
The email marketing service that you are using should be easy to use and must fit your business style.
Make sure that the email marketing services that you choose are right for your industry type. This is to say that certain services are created for certain industries so if a particular service does not fit your industry type then it is better to look for others.
Your email marketing company should be able to send personalized bulk emails and that too without a lot of work. This is called marketing automation.
The service that you opt for should fit your budget.
Now with our basics about bulk email marketing clear, let us proceed towards discussing the best email marketing service providers of 2021. So come, let's begin!
1. Constant Contact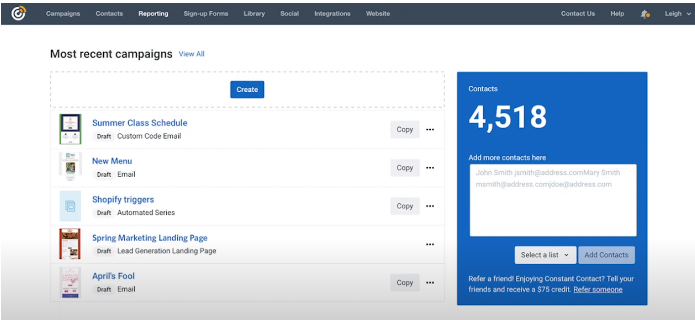 Constant Contact is one of the most popular and fastest-growing email marketing services all across the world. There are a number of reasons behind its fast-growing reach, like the 60 day trial period that it offers to its customers, the easy to use and beginner-friendly services that it provides, its low costs which are only $20 per month for the beginners, and its in-person live seminars to train its users.
Not only this, but its benefits also include many bright features that it offers like access to easy tracking and reporting, Facebook ads integration, email plus accounts with features like coupons, surveys, and polls, online donations, list segmentation, free image library, etc. to increase your following.
2. SendInBlue
This email marketing company that was created initially to send transaction-based emails has now combined both email and SMS campaigns on a unique platform. The best part about using this marketing service is its generously free plan which is based on the number of emails sent and not on the number of contacts. Hence it is highly beneficial for those individuals or companies that send tons of emails.
Also, along with these features, this email marketing service offers options like list management, email layout optimization, and campaign reporting which proves useful for businesses in creating strong bonds with their customers.
3. Drip

If you are involved in the e-commerce business and you wish to convert your visitors into subscribers or customers with smart marketing automation then you might want to try out this email marketing service provider. Drip tries to understand your customer's intent and purchasing habits and sends them emails accordingly. Also, it allows you to have a deeper conversation with your visitors which gives you a major advantage in increasing your conversion rates.
4. AWeber
AWeber is a popular and one of the oldest email marketing companies. It offers its users a 30 day trial period and after that starts its pricing from a minimum of $19 per month. Apart from this, the email marketing service company also offers its users quarterly and annual plans so as to enable them to save even more.
With this bulk email marketing service the users also get access to email templates, email tracking, autoresponders, list management, etc.
5. MailChimp
This service is an easy marketing tool that is highly beneficial for bloggers and smaller websites. MailChimp has a cute mascot and is a leading marketing email provider that sends about 1 billion emails every day.
Some of the features that this bulk email marketing service offers include contact segmenting, service and app integrations, autoresponders, A/B testing, etc. However, if there is one thing that the users need to be careful of while selecting this email marketing company is that here getting any refunds or money-back guarantees is not easy. So, one needs to be careful.
6. GetResponse
GetResponse comes with a modern and user-friendly interface which makes running your email newsletter campaign easy to manage. This marketing software is highly popular and recommendable as it allows you to grow your email list with beautiful emails and high converting signup forms. It offers support via phone, live chat, and email.
Some of the unique features that this tool offers are its ability to create landing pages and webinars which when combined with email marketing can assist you in quickly growing your email list.
7. MailerLite

This email marketing service is one of the youngest tools offered on this list. It is very easy and simple to operate which makes it a favorite choice of many freelancers, website owners, and small businesses across the world.
Also, the availability of this tool in multiple languages offers it yet another advantage. Apart from that, this tool is also pretty much intuitive which makes creating emails on it an easy and quick task.
So, this is a quick review of all the best-performing email marketing service providers of 2021 that you can use while selecting a marketing tool that suits your own needs and budget!