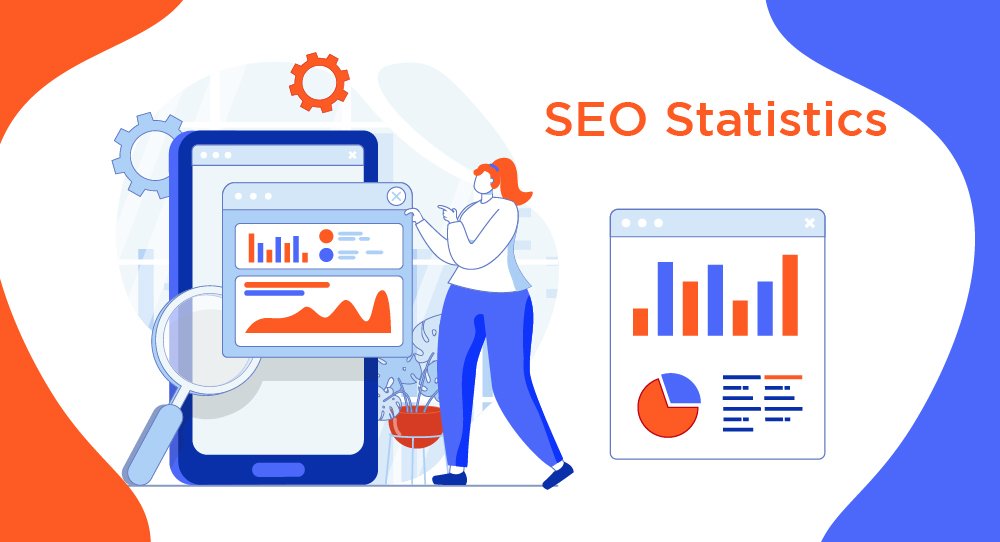 Are you looking for local SEO statistics? Don't worry; we've compiled a list of the benefits of local SEO statistics that you should be aware of as a local SEO expert or a business owner.
More clients and revenue can be gained by optimising your business for local searches. Many businesses utilize local SEO as a marketing strategy because they understand how important it is for their business to thrive.
What is Local SEO?
Local SEO is one such approach that allows you to rank your business in a specific place so that it is the first one that people in that area see when they search Google.
For example, we frequently want information on a certain area, such as restaurants, hotels, or schools. Users search for various services using Google Maps or search engines, and you have the option to place your business at the top of the search results.
Benefits of Local SEO Statistics
There are several benefits of SEO statistics. The following are some of the most important benefits of local SEO:
Local SEO can assist you get more visitors from certain locations or regions to your website. This will help you build your brand's reputation within a local audience.
Local SEO allows you to rank for keywords related to local products or services. Furthermore, every customer conducts an internet search prior to making a purchase, therefore you have a tremendous possibility to expand your business here.
Local SEO is completely free. You may market your local business for free using major platforms like Google My Business and Bing Places, and you won't have to spend a dime.
Everyone likes to buy from reliable sources, which is why people check internet reviews before investing their money in a firm. With Local SEO, you can encourage more people to leave reviews for your company.
In comparison to desktop computers, most of us access the web on our smartphones. Furthermore, according to studies, 79 percent of people utilize their mobile devices to do local searches. Local SEO Service provides you with a great opportunity to capture this traffic for your firm.
How to get the benefits of local SEO statistics
To begin performing local SEO, you must first register a free Google My Company business listing. (You may also list your company on other platforms, such as Bing Places, for greater visibility.)
After that, put in all of your company's vital information, such as its name, address, goods, services, and a brief description. You may also add photographs and videos to your listing to build trust and persuade people to buy from you.
Create a website where you may add more information about your company, such as blogs, events, and services. You may also add your company to your business listing, which will help you attract more customers.
If you don't already have one, Google My Business offers a free website that you can use to promote your company.
You may also control customer ratings and reviews. It's a good idea to respond to any review you get, whether positive or bad. It demonstrates to users that the company is alive and well, and that it cares about its consumers.
You may also list your company on several sites such as Yelp, Foursquare, and Yellow Pages. Below we have listed some of the SEO benchmarks by industry which will help you in the coming year.
Local SEO Statistics for 2022
Here are some of the crucial near me search statistics for 2022 also known as local SEO statistics:
1. It's All About The User Experience
This is a significant technique to gain a competitive advantage in local SEO in 2022. Google stated in May 2020 that user experience (UX) signals will be factored into its results.
This means that factors such as how quickly your web page loads, how easy it is for people to navigate your design to find the content they're looking for, and how well this experience ranks on both mobile and desktop will all have a significant impact on a website's search engine results page ranking.
Google provides a tool called Google Search Console to help firms with this. A section named Core Web Vitals is located on the left side of the page. They've added data on how well your website's user experience is rated by Google.
So, how can you improve your user experience?
While marketers have sworn by the use of pop-up advertisements and banner ads on websites for years, customers despise them. This has been known for a long time, and they now have no choice but to go.
Consider this if you're still not convinced. Users are 279.64 times more likely to have climbed Mt. Everest than to click on your banner ad, according to Business Insider. It degrades your SEO, irritates your consumers, and is ineffective in recouping those losses.
Is your website quick to load? You may test this using tools available on the internet. Make sure it's been tested on a variety of platforms. That means your app must load quickly and seamlessly on both iOS and Android devices, as well as desktop PCs and tablets.
Local companies should think about what consumers want from their websites and use that information to guide their navigation. When visitors come to your main page, what do they expect to see? Is it easy for them to access your contact information, business hours, and address?
2. Google My Business
Google My Business (commonly abbreviated to GMB) has gained a lot of traction in recent years and is becoming increasingly important. It is also one of the most important SEO business statistics.
These days, Google is putting a lot more attention on search intent. They're not only displaying results based on keywords; they're also displaying results based on what they know a user is looking for.
When a user types in "best realtor," the search engine recognizes that the user isn't seeking for the best realtor in the world. Google will present the top realtors in the user's local region based on the location-based information they have. That will appear in the Google My Business results.
How critical is this for small companies in the area? According to research, over a thousand views on a Google My Business listing will be seen by 49 percent of local companies each month.
So, how do you improve the performance of your listing? First and first, if you haven't already done so, it's completely free. Fill in as much data as possible in your profile. If your company hours change, be sure to update your listing! Maintaining your listing's relevance by adding a new article every two weeks will allow you to add more local keywords to your account. The more activity and interaction you have on your listing, the happy Google is, and the higher you'll appear in the search results.
3. Zero Clicks Results
This may appear to be a dismal trend, but it is crucial to be aware of.
More than half of all Google searches in 2019 resulted in the user receiving the information they need on the search results page. This indicates that they did not visit a company's website.
What are your options for using this information? Take a look at your Google My Business page and Google Maps information for your company, for starters. Keep them up to date because this is where consumers may get the information they require about your company.
Also, attempt to build rich material for your website that isn't available just on the results page. Also, focus on terms that will drive traffic to your website.
4. Your website is still important.
The fact that zero-click results are becoming more popular does not negate the importance of your company's website. In reality, people are increasingly using this method to establish confidence with firms.
According to a research by BrightLocal, 56 percent of customers expect to obtain the most accurate information on your website. That means they're looking for critical information on your website, such as your business's location, hours, and contact information.
Another interesting finding from the survey is that 50% of consumers are less inclined to utilise a firm that does not have up-to-date contact information on its website.
This relates to designing a site that provides a positive user experience. Ensure that your website is up to date and that your clients are satisfied.
5. Your website must be mobile-friendly.
When your consumers are out and about and realise they need to make a purchase, they're likely to do it straight away on their mobile device.
According to recent statistics, mobile devices account for 52.2 percent of all internet traffic.
If that number isn't enough to convince you to pay more attention to your website's mobile design, consider that Google now indexes new websites using mobile-first indexing. This means that Google will evaluate new websites based on their mobile design first, rather than their desktop design. And again, they're looking at the user experience.
This means consumers want to see mobile designs that are simple to use and load quickly.
Is your mobile design's font large enough? Is it easy to find the most significant links and bits of information right away?
6. Voice Search Is Important in Local Search
People phrase their online queries differently while speaking to their phone or smart speaker than when typing them into the search field. These searches are more time consuming. If you want to appear in local voice searches, you should think about how people naturally speak while developing content for your website.
You want your site to score well for these queries, according to current data. According to Bright Local, 75% of smart speaker owners use them to search for local businesses on a weekly basis.
7. It's Important to Have Good Video Content
Many of today's searches are zero-click results, as noted previously. Many local business queries are answered by Google Maps or Google My Business. Others are confronted with YouTube videos appearing in the search results.
According to Forrester Research, video content is 50 times more likely to appear in search results.
Video content is popular among consumers. It makes virtual products, services, and enterprises feel more genuine to them. Your video material has the potential to increase trust. According to research, 84 percent of individuals said that a video influenced their recent purchase choice.
8. Text Content Is Still Important
If you want your local company to rank higher, you should think about how much material you have on your website for visitors.
According to Orbit Media's research, the average length of effective blog entries nowadays is 1,142 words. If the current tendency continues, that length will continue to increase.
What do your clients in your neighbourhood want to know? Is it true that they're seeking for the greatest root beer in town? Do they have any worries that are specific to them? If you're a roofer in San Diego, for example, you might generate content that addresses issues like which roofs are earthquake-safe and which materials survive the longest in the blazing California heat.
9. The importance of search intent has never been greater
Did you know that phrases like "to purchase" have seen a 500% surge in search usage in recent years?
There are four different sorts of search intent to consider. Making a purchase, visiting a business's website, obtaining information, browsing, and comparing items are all examples.
Google's search results are now tailored to the user's search intent.
You'll need material that matches their search intent if you want your local business to rank. If you offer organic, environmentally friendly coffee, your consumers are likely to be curious in how it was manufactured. They want to know about the flavours you have and how you roast them. They'll want to know if your company participates in a local recycling programme.
You may create a frequently asked questions page with natural-sounding content that caters to more local queries.
10. It's Important to Take Care of Your Online Reputation
Did you know that 87 percent of customers check internet reviews before making a purchase?
This is something Google is well aware of.
As a result, online mentions of your company are increasingly important for your search rankings. For this, context is crucial. By linking to your reviews on sites like Yelp and Facebook, you're connecting your website to those reviews for Google. When you answer reviews properly, you increase engagement and demonstrate to Google that your company resolves problems and connects with consumers.
It used to be that ignoring a company's ratings was the best advice, but today, brand involvement is important, and Google encourages it.
In 2022, stay on top of your online presence.
The online presence of a local business is more important than ever in 2022. Stay involved, create a high-quality website, and continuously consider how to deliver the greatest customer experience possible. A customer-centric strategy is rewarded by Google. Keep it in mind, and you should see an increase in your rating.