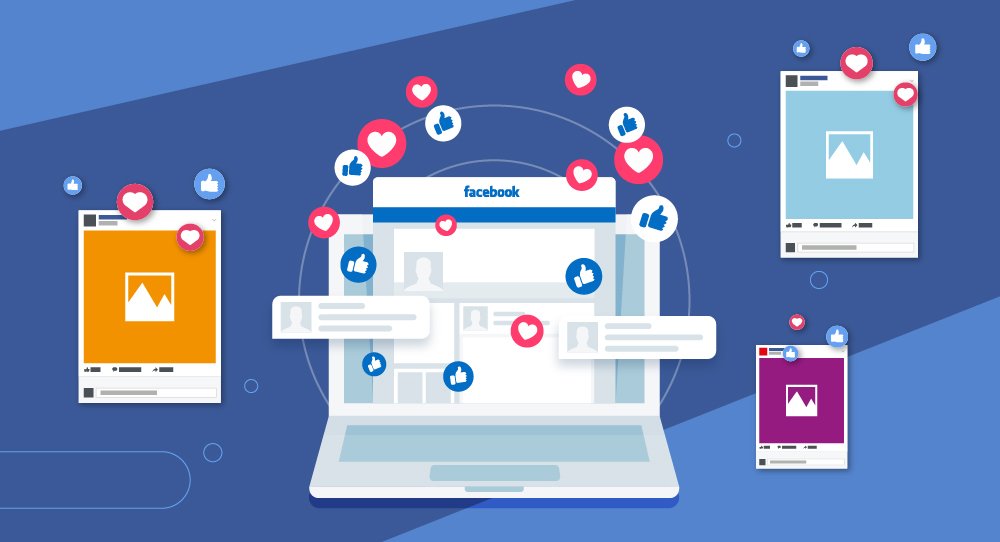 Facebook Ads platform was initially introduced in 2007. For the first time, this initiative allowed companies to create profiles (similar to personal accounts), post content, and communicate with their consumers — a precursor to lead generation on the popular social network.
After more than a decade, Facebook marketing and advertising is still a successful engagement and lead-generating approach for businesses in a variety of sectors.
You've probably heard of social media marketing, namely Facebook marketing, whether you've been in the company for a year or many years. You may have grown up knowing all there is to know about Facebook, or you may be a seasoned company professional who has resisted using Facebook for a long time and is only now discovering how powerful a marketing and sales tool it can be. When used effectively, Facebook has the potential to assist you in generating qualified leads that fulfill your sales standards. If you're concerned about the quality of leads you're getting from Facebook, or if they don't fulfill the criteria on your lead qualification checklist, here are some Facebook lead generation techniques to test.
Facebook is a social media site where your current and future consumers hang out online on a daily basis. You want to reach out to them with your brand's messaging, goods, and services so that your firm is at the top of their mind when it's time to buy. This notion is easier to understand than to apply. Your Facebook consumers use the platform to interact, keep up with friends and family, and learn about what's going on in the lives of others. They do not want to be bombarded with advertisements for products and services. Your Facebook postings as a company should start a personal discussion that also encourages users to convert and do the desired action.
Here are 10 actionable but excellent Facebook lead generation tips.
10 Effective Facebook Lead Generation Techniques
Here are 10 actionable as well as excellent Facebook lead generation tips.
1. Give Your Facebook Page a Makeover.
Spend time improving the aesthetic of your Facebook page before diving into the nitty-gritty of promoting or selling. It should be one of the foundations of your Facebook marketing strategy.
This is because your page serves as the face of your brand on social media and as a digital storefront. Its look may influence how consumers perceive and engage with your business, similar to how the exterior of a retail store influences foot traffic.
Here's everything you'll need to get started:
A high-resolution profile photo that symbolises your company.
A beautiful and high-quality cover photo or video
A personalized call-to-action (CTA) button that encourages users to take action, such as registering for a webinar.
A comprehensive and up-to-date "About" section
However, keep in mind that this is a generic checklist. You may need to tweak a few things on your page to fit your product or service, which may necessitate the help of a Facebook marketing specialist. Working with a full-service Facebook marketing business is another wonderful alternative if you believe your page needs a total makeover.
2. Make an Investment of Your Time and Effort in Facebook Advertising.
Facebook advertising allows you to acquire qualified leads from highly targeted demographic groups for a reasonable cost that won't break the bank. Facebook advertising allows you to choose your daily ad budget as well as the duration of your ad campaign. Furthermore, with a variety of targeting choices ranging from age and region to interests and hobbies, you may drill down to as exact a targeted audience as you desire.
Facebook advertising is intelligent, simple to use, and cost-effective, allowing potential consumers to engage with your business without leaving Facebook. If you use Facebook advertising to generate leads, Facebook will automatically fill in a user's information in the lead form, making sign-up easier on mobile devices and more convenient for the user.
These ads feature templates for a range of purposes, like subscribing to a newsletter and visiting a website page to make a purchase. Simply select the aim you want to achieve, fill up the template with material and a picture, select your target demographic, and then set an ad price depending on your marketing budget. Once the ad is online, you can track the campaign's progress using built-in analytics.
There are three different sorts of Facebook ad formats:
Boosted Post: A boosted post is a regular Facebook post that an administrator "boosts" to reach a bigger audience and audiences you may target ahead of time.
Advertisements that display in the right-hand column of a user's Facebook news feed are known as sidebar ads. With these sorts of advertisements, there are more extensive testing choices. The expenses of clicking and converting on sidebar advertisements are also cheaper.
Advertisements that show in a user's news feed and feature an optional CTA button are known as news feed ads. These adverts, on the other hand, do not appear on your company page's news feed. Advertisements in the news stream are more expensive than ads in the sidebar, but they have demonstrated to generate higher interaction.
3. Carryout Facebook Lead Generation Ads.
Although Facebook lead generation advertisements are similar to the recommendations in the preceding paragraph, they are a unique form of ad that requires their own entry.
You might be asking what sets Facebook lead advertisements apart from the competition. The short answer is that they are presented in a completely different way.
Lead adverts are a sort of form that allows users to provide contact information while remaining on the platform. This ad type can help your company's lead generation efforts on Facebook in a variety of ways:
You won't need to design or optimize a landing page because it's a promotional form on Facebook.
It helps users fill out contact forms by collecting information from their Facebook profiles, making the procedure simple, especially for mobile users.
Users are more likely to finish them since they are pre-populated forms.
It's also useful for obtaining information that can assist you better understand your target audience.
Running lead advertisements is worth a shot if you're seeking new ways to obtain leads from Facebook. These promotional forms perform a heavy job for you by gathering vital information like names, email addresses, phone numbers, and more. Furthermore, you may use lead advertisements to better identify your potential clients and make Facebook marketing more successful.
To get the most out of lead generation on Facebook, you may utilize lead advertisements in three ways:
Increase the number of people who get your email marketing.
Collect questions from potential clients and interested consumers.
Encourage users to take advantage of special offers or promotions.
Facebook leads advertisements may also be utilized for event registrations, webinar sign-ups, and white paper downloads, making them an excellent complement to your current Facebook advertising efforts.
If implementing this plan is beyond your team's capabilities, you can always hire Facebook management services. Agencies that provide such services will manage your lead generation campaigns for you, ensuring that your marketing objectives are met and that your target audience is reached.
4. Add a Creative Twist to Your Promotional Posts.
Marketers adore selling and promoting on Facebook because it's where the people are — 1.84 billion daily active users from all over the world, to be exact.
When it comes to viewing adverts on their timelines, though, individuals don't appear to feel the same way. According to a survey conducted by SurveyMonkey, 74% of users believe there are too many commercials, and that the ads they encounter are overwhelming, repetitive, and irrelevant.
This isn't to argue that using Facebook for marketing is a waste of time. Sharing promotional postings on social media can still be fruitful, but you'll need to be inventive.
Add photographs to your lead-generating posts to make them more enticing and enhance your Facebook selling game. According to current statistics, this sort of media generates 179 percent more interaction than other types, thus it may help improve your articles significantly.
But there's a catch, to capture your visitors' attention, you'll need high-quality, well-designed graphics.
When creating and using photos for Facebook leads generation, keep the following parameters in mind:
Make sure to pick an eye-catching photo or graphic to attract the consumers' attention as they scroll through their News Feed.
Follow the file size requirements in the Facebook Ads Guide to avoid your photos looking pixelated and fuzzy.
Make sure the copy is clear, simple, and pertinent.
If you don't have the time or money to create high-quality photographs, you may always hire professional Facebook marketing services.
5. Use Facebook Videos to Boost Users' Interest in Your Offers.
Video postings get the most attention and interaction out of the three forms of Facebook content posts. In reality, the use of video is encouraged by Facebook's algorithm. Facebook videos are a terrific way to promote special deals, new blog articles, forthcoming events, webinars, and courses, as well as introduce your company and provide company news.
Verbally explain the intended CTA at the beginning and finish of the video, as well as in the video description.
Facebook Live videos are a great alternative to professional marketing films, which may be time-consuming. These films allow anybody to use their smartphone to capture and broadcast live videos, which are then instantly uploaded to the user's Facebook news feed. These videos are more raw and spontaneous than typical videos, attracting more attention and views from interested viewers. The unfiltered nature of Facebook Live broadcasts also gives your company a personality and a more personable appearance, which viewers are more likely to engage with.
These films are ideal for Q&A sessions, offering conference updates, or telling viewers about special deals. Because viewers can "join in" on a video after it has already begun, it's a good idea to repeat the CTA throughout the film.
6. Use Facebook Live to Provide a Live Presentation About Your Services or Expertise.
The live video streaming tool on Facebook allows you to broadcast a video in real-time or share key events with your followers as they occur. Finally, this feature may assist your company stands out as genuine, noteworthy, and relevant.
Learning how to utilize Facebook Live for business, on the other hand, not only helps you establish your brand, but it also aids to generate leads on Facebook for free. You can communicate with and engage your audience in real-time using Facebook Live. Furthermore, you'll get 6X more interaction than normal videos (viewers adore anything spontaneous and real), and it'll take far less time and effort to create than a polished video.
Take notice of these things before picking up your phone or camera to go live:
Don't just go live for the sake of getting more views and interaction; thoroughly consider your live content and objectives.
It's fine if you don't understand how to utilise Facebook Live at first, but make sure you practise before going live!
Invite folks to watch your show by spreading the word.
Prepare to give excellent information on your selected topic once you go live. You should also be prepared to answer questions from your audience.
Throughout your broadcast, mention your CTAs and let them know what you want them to do.
Use the chance to drive your audience to your lead generating offerings during the show (e.g. a new eBook, product or service trial).
After the broadcast, optimize your video for search to make it easier for viewers to locate it. Change the names and tags of the videos, and add important keywords to the description.
Here are a few unique ways to use Facebook Live for business:
Allow your viewers to take a virtual tour of your shop.
Show off your newest product or service.
Real-time Facebook selling is possible.
Conduct an interview or a question-and-answer session.
Organize a webinar.
7. Try Facebook Groups to Increase Your Social Media Presence
Facebook Groups are places where people may communicate with one other on a regular basis. They enable people who share the same interests to get together and interact with one another.
As a company, you may utilize groups to start conversations with your target audience and learn more about them. But, most significantly, you may leverage these areas to generate Facebook leads.
If you're using Facebook advertising to join groups, keep the following standards in mind:
To get the most out of this method, join groups that are relevant to you and your company.
Get to know the people in the group; the information you learn will help you better grasp your target market.
Engage in genuine discussions and provide useful information first.
Avoid spamming the group with links and don't sell immediately away.
You can also start your own groups and invite people to join them. Having a group will allow you to do the following, despite the fact that it will take a lot of time and work to set up:
Create a strong community around your brand.
Inquire directly with your customers about a new product or service.
Even if in-person events are discouraged, nurture prospects and keep connected to existing customers.
Agencies that provide Facebook management services can also help you with this. They are in charge of the entire process, from forming the group to inviting members to keep the community involved.
8. Encourage your Followers to Respond Quickly by using Facebook Stories.
Facebook Stories are 24-hour photo or video compilations that are viewable to your followers. Both the web version and the mobile app have them at the top of the News Feed.
They're mostly used to share amusing and genuine events throughout the day, but they may also be an important part of your company's Facebook marketing plan. Because stories are prominently featured at the top of every timeline, they tend to attract a lot of attention. Because of their transient character, they assist your business to seem more personal and accessible to people, and they aid in eliciting urgent responses from your followers.
Try these methods if you want to use the Stories feature to produce more Facebook leads:
You may either snap a photo or select one from your gallery. Whatever method you choose, make sure you use high-resolution multimedia.
To generate leads, provide relevant CTA buttons. Business sites provide a variety of alternatives, like "Book Now," "Call Now," and "Shop Now," to name a few.
Make your Stories as engaging as possible in order to urge viewers to take action. Add polls or advertise limited-time specials, for example.
9. To Attract Users, Leverage the Power of "Free"
Consumers are always on the hunt for answers to their difficulties, particularly when they are unemployed. When you're selling on Facebook, you may take advantage of this chance. You may entice consumers to engage with you by providing them with something beneficial in return, such as lead magnets.
Any free item or service meant to entice consumers to trade email addresses or other contact information in return for access is known as a lead magnet. Trial memberships, eBooks, white papers, and free consultations are just a few examples.
To start producing high-quality Facebook leads with lead magnets, follow these steps:
Determine who you're targeting and what they value before creating a lead magnet. This will assist you in developing an offer that your target audience will want to take advantage of.
Make an effort to devote time and resources to the creation of your content. You may do this with the support of your writers and designers, or hire a Facebook marketing professional.
Create a landing page dedicated solely to your lead magnet. Maintain clarity and simplicity in the copy so that visitors know what to do when they get on the page.
Create a "Thank You" page for visitors to view once they've submitted their information. This website should inform them as to what they may expect from you in the future.
Creating a lead magnet that consumers desire to get takes a lot of time and effort, which is true for any form of content. If creating high-quality lead magnets within your own team isn't viable, you may outsource Facebook marketing to a reputable firm. Their writers and web designers can assist you in creating the content you want for your project.
10. Exciting Prizes or Giveaways can be used to Entice users to Participate.
People adore free or significantly discounted things, and what better method to generate interest and engagement than a contest or giveaway for the opportunity to win free stuff? Contests and freebies are excellent strategies to increase website traffic and generate leads.
An efficient Facebook contest or giveaway involves fascinating, valuable information, a captivating image, and a link to your website's contest landing page, which includes a form that the visitor fills out. You now have the contact information for a lead.
Conclusion
In any of these methods, learning how to utilize Facebook for business marketing may lead to additional victories for your company. Not only will it help you raise brand recognition and client engagement, but it will also help you produce the leads you need to scale. With the correct Facebook lead generation plan in place, the social media site may even help you convert your followers into paying customers.
But it's also worth noting that, while the suggestions above might help you get started with how to generate leads from Facebook, they're not intended to be one-size-fits-all answers. There is no one-size-fits-all approach to advertising on the channel.
You can begin with the tactics listed here, but ultimately, your success will be determined by you. How you handle Facebook administration, create Facebook lead generation advertising, and coordinate every action in between will either boost or derail your Facebook lead generation efforts.